We are committed to protecting the confidentiality of your personal information.
General Information
Loanstreet respects and protects your personal information in accordance to the Personal Data Protection Act 2010. This policy details how we, Finology Sdn Bhd ("Loanstreet", "Finology", "we", "us" or "our") collect your personal information and ways it is used on our website, Loanstreet. It also briefs you about the personal data protection measures we have put in place. By using our services, you are consenting to the collection, transfer, manipulation, storage, disclosure and other uses of your information only as described in said Privacy Policy.
Collection of Personal Data
Unless you are registered for online services from Loanstreet, you will remain anonymous when you browse through this website. We do not collect personal information (e.g. your name, address, phone number or email address) if you are only browsing this website.
You may be requested to furnish your Personal Data upon application of any services or products available on Loanstreet.
Uses of Personal Data
By using our products and services, we may collect and use your personal data for the following uses:
To send you information about products and services which we anticipate may be of interest to you.
To enable you to access and use Loanstreet's services.
To personalize and enhance aspects of our overall service to you and our other users, as well as carrying out research such as analyzing market trends and customer demographics.
To refer you to the financial product(s), and/ or financial institutions (or their authorized representatives) specified by you upon completion of application forms on our website.
To communicate with you, in order to verify the personal information provided, or to request any additional information that is essential to fulfilling the service that you have applied for.
To comply with any applicable rules, laws and regulations, codes of practice or guidelines or to assist in law enforcement and investigations by relevant authorities.
To give consent to Loanstreet's Insurance Provider(s) to process personal data for marketing and promotional purposes upon completion of purchase.
To confirm to have read and understood the chosen Insurance Provider's Product Disclosure Sheet (PDS) & Policy Wording that is available on the 'Learn More' page of Car or Motorcycle respectively of the chosen Insurance Provider and agreed to be bound by the terms and conditions stipulated therein. Where required, I/we have contacted Loanstreet or Insurance provider for any terms that I/we do not understand prior to entering into this contract.
How We Collect Personal Data
Loanstreet collects your personal information when you:
Choose to register and use our online services such as our loan comparison tools or when you sign up for our weekly newsletters.
Apply for products or services from our website.
This information collected comprises of information communicated to us when you voluntarily complete an application form presented on our website that makes it possible to identify you. Upon volunteering personal information, you agree to communicate accurate information that does not prejudice the interest of any third parties.
Retaining and Passing On Information About You
Loanstreet keeps your personal and financial information for only as long as it requires to provide you with our services. If it is deemed appropriate, Loanstreet may share your personal information with third party providers whose products are listed on Loanstreet's website. At no point will Loanstreet sell, distribute, or lease your personal information to third parties without your permission, unless required to do so under the law. Loanstreet will not send you promotional information without your consent.
Personal Data That May Be Collected by Loanstreet
If you want to apply for a product or service via Loanstreet, we may require that you provide us with your personal information such as:
Name
Email
Telephone
Age
Location
Marital Status
Education
Residence Accommodation
Residence Type
Occupation
Income
Assets and Liabilities
Please note the list above is not exhaustive and only includes the most common financial information collected.
Cookies
Loanstreet may use "cookies" to collect information about how our website or the app is used. Information, such as the server your computer is logged onto, your browser type (for example, Internet Explorer or Google Chrome), and whether you responded to advertisement on the Loanstreet website or the app or email is collected and tracked, however, this is done in an aggregated manner and is not linked to you personally.
Access to Data
Feel free to contact us should you wish to access your data or to correct personal information that is inaccurate, incomplete, misleading or not up to date or should you wish to withdraw consent for the use of your personal information.
Contact Us
If you have any questions or comments regarding our privacy policy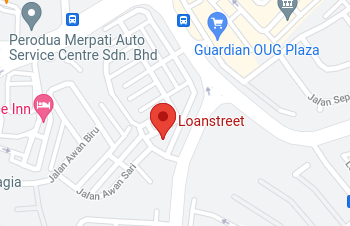 Loanstreet Sdn Bhd
52-2, Jalan Awan Hijau,
Taman Oversea Union,
582000, Kuala Lumpur

Telephone: +603 7451 5285
Email: custcare@loanstreet.com.my